The most advanced
medical grade
wearable
vital signs monitor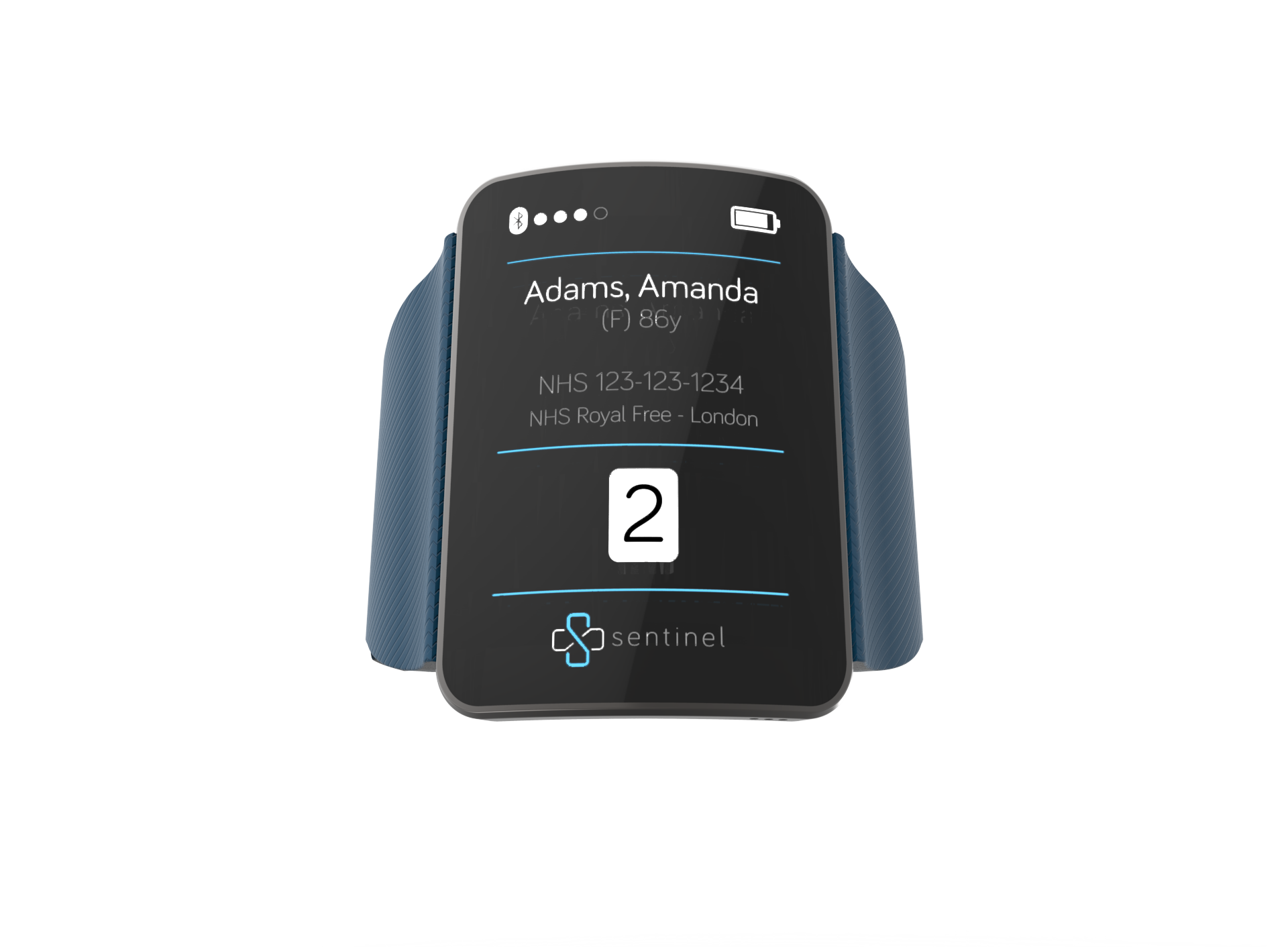 "Patients die because signs of deterioration are missed.
There is a huge unfulfilled need for better monitoring of vital signs to identify high-risk patients who are on general hospital wards or at home."
the next generation of
Vital signs monitoring
Sentinel is the realisation of the vision of a group of incredibly talented medical experts from 5 Academic University Hospitals.
Their input, expert knowledge and foresight help us deliver tommorrows medical technology today.
Sentinel is State-Of-The-Art
Five Academic University Hospitals believe that Sentinel "Will advance the field ahead"
Innovate UK - "The innovation is clearly most impressive and very well evidenced"
E.U. Nightingale's 5 University Hospitals scored Sentinel 8/10 for Innovation
E.U. SME Instrument awarded 4.3/5 for Technical Excellence
In our usability testing in UMC Utrecht, Sentinel was scored 4.5/5 by Doctors, Nurses and Patients
setting new standards in accuracy
We are filing several patents that let Sentinel achieve exceptional levels of accuracy for several vital signs
Reduced costs in hosptials and in 'at home care', improved outcomes through continuous real-time monitoring with advanced A.I.
Smarter, Faster, Cheaper and Better
Sentinel constantly monitors
A full set of vital signs including blood pressure, respiration rate, temperature, oxygen saturation, 3 axis position, motion, ECG, Heart Rate and more.
Monitoring more parameters, more accurately than any other single device available
Looking for trends improving or deteriorating before they become life-threatening.
Clinical risk through NEWS2, PEWS or MEWS scores every 120 seconds.
Alerting the people that need to know when needed and suppressing false alarms
It Just works
No web \ 2G \ 3G \ 4G \ Wi-Fi or network connection needed. No Hubs or repeaters. When we say, 'no connection', we mean 'no connection'. Sentinel works 'off-grid' including it's A.I. and re-synchs when connectivity is restored.
No reverting to paper during system downtime.
For the elderly and At-Home care of patients with chronic conditions, Sentinel has been designed for their needs and those of their healthcare providers.
Sentinel requires no user input and is autonomous. This saves lives and money.
A.I. and Supervised M.L models are local - Expert knowledge is available where ever it is needed.
Design
We pay incredible attention to detail at every stage to help our users and their patients
Waterproof, 5 day battery life, Anti-microbial Gorilla Glass, Encrypted Bluetooth 5 and more that will surprise you.
High usability for medics and patients
A.I. that works off-grid.
group based
Work as a team - coordinate tasks, workflow and messaging with full EHR integration.
Patients and their alerts can be moved between groups - ICU to Ward to home.
Users build and tailor their groups to suit their needs - The system works the way users need it to work.
Highly secure (FIPS140-2) 'end-to-end' with every data packet 256bit AES encrypted and HIPAA compliant - We surpass all E.U. and USA data security standards
Full integration with all common EHR's in Europe and the USA
Containerised local VM deployment or in the cloud - Infrastructure that suits clients needs
Sentinel is needed
Not because we say so but because some of the worlds most highly experienced experts do.
The E.U. business case, the savings and why we are building Sentinel can be found here
Sentinel is designed and manufactured in the UK
Sentinel is created with the help, medical expertise, endorsement and support of our Nightingale partners - Meet our Nightingale team